Library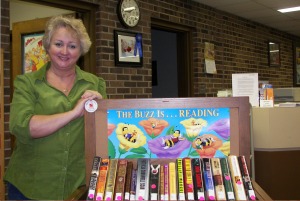 "A library is not a luxury but one of the necessities of life." - Henry Ward Beecher
We couldn't agree more. Come visit your local Double Springs Public Library. A quiet place to study, relax, work or simply escape in a good book. It's fun, the old fashioned way.
Librarian: Beth Kendrick
Library Board Members:
Tom Bartlett • Nancy Curley • Annette Little • Virginia West • Peggy Patterson
At the Double Springs Public Library, our goal is to make your visit pleasant and successful. We want to help you find material or information you need, whether it is for educational or recreational purposes. We are located in the Double Springs Community Center Complex. We offer new released adult fiction books, non-fiction books, juvenile fiction and juvenile non-fiction books, as well as, an assortment of genealogical and historical information. We are also a proud member of The Carl Elliott Regional Library System.
Library Cards
Each patron must complete a membership application form for a borrower's library card in person. The first library card issued is free to residents of Winston or Walker Counties. Replacement cards require a fee of $5.00.
Patrons over the age of 15 must show positive ID with their current home address. Acceptable forms of ID include driver's license or non-driver ID, recent utility bill with your current name and street address, check book with imprinted checks, voter registration card with street address, property deed, rent receipt with your name and address, business license, and current military personnel or military dependent identification card.
Funding
Realizing that support for the public libraries of the Carl Elliott Regional Library System is derived from the taxpayers residing within the counties, an annual fee of $20.00 will be charged to out of county patrons who wish to obtain a library membership unless is shown verifying the person either works in Winston or Walker County.
Children's cards are issued to patrons aged 6-15 if the parent/legal guardian accompanies the child to sign the application card and the parent/legal guardian shows a positive ID with their current permanent home address.
Only patrons presenting a card issued by a library within the library system may borrow materials. Cards must be presented at the time of checkout. Borrower's cards may be used at any public library within the Carl Elliott Regional Library System.
Limiting the number of materials to be borrowed (due to limited supply of materials, habitual over-dues, etc.) will be at the discretion of the Librarian.
ON-Line Database- What it means to you
Click here to see if we have a book you require.
You can check to see if we have a book that you require. If our library does not have the book you seek, but another library in the system shows that it is available, we can request the book from the other library. You will be able to renew books that you have previously checked out (only once, please). Other databases offered are the Alabama Virtual Library, Homework Alabama, the Learning Express Library (Interactive practice exams based on official exams) and World Book Online.
Computers
We have 3 computer terminals with wi-fi internet access. To access these computers, you must have a valid library card and read our internet policy. There is no fee to use these computers, but there is a printing fee of .I5 cents per page.
Children's Programs
Summer vacation is a fun time at the library with the Summer Reading Program. Program hours are every Tuesday during the months of June and July for children ages 6- 12 (however, no child has ever been denied access to the program). There is no fee for the program, but donations are gladly accepted.